Had a fun afternoon making gazpacho. It is so scorchy hot here in Newport that it reminds me of Spain.
Well, it's all relative. 65°F is scorchy hot in Newport at this time of year. Spain is more like 105°F. I know. I've been there.
Anyhow, fired up a glass of Jeréz Fino and proceeded to do the do.
Bottom line up front:
How long does it take? About thirty minutes, but if you use the Fino, it can take a while longer, but no more than an hour...
:-)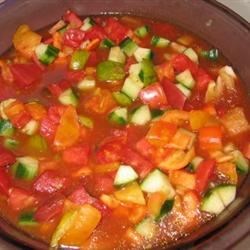 Adapted from p. 171
Joy of Cooking
Chilled clear soup full of fresh vegetables with fresh herbs.
Serves 6. Halve the recipe for one person.
Assemble:
4 garlic cloves
3 cups (2 cans) beef consommé
2 Beefsteak tomatoes or 4 tomatoes on the vine.
1 Sweet bell pepper
1 Cucumber
1 Spanish (red) onion
1 Lemon
1 cup or more of mixed chopped fresh herbs:
Tarragon
Parsley
Basil
Chervil
(Cilantro appears too strong)
½ cup Extra Virgin Olive Oil
Remove top and root of garlic. Remove green germ from the center of the cloves:
http://www.davidlebovitz.com/2014/01/should-you-remove-the-green-germ-from-garlic/
Chop finely and set aside.
Blanch the tomatoes for 30 seconds, then immerse in cold water to remove the peel. Cut them in quarters and remove the seeds. Continue to dice them (~½" square dices) and set aside.
Halve the sweet pepper and remove seeds and blanched flesh. Continue to dice it (~½" square dices) and set aside.
Peel the cucumber. Slice lengthwise in half, us a teaspoon to scrape out the seeds. Dice it (~½" square dices) and set aside.
Chop off the root and top of the onion and peel it. Dice it (~½" square dices) and set aside.
Combine and chop the herbs finely.
Combine all of the above in a bowl (
e.g.
, 2 quart bowl) and toss with a cooking spoon to mix the ingredients in a pretty colorful pattern. Reserve one scoop in a small bowl to use as garnish.
Put the remainder in a blender,
Add the consommé and olive oil and pulse lightly until uniform. Do not blend excessively.
Return to the 2 quart bowl and chill (with the reserved garnish) at least two hours.
To serve:
Place in each bowl
1 tablespoon chopped parsley
½ cup of the reserved garnish
Add the soup.
Season and garnish to taste. JOC suggests bread crumbs.
Accompany with a Spanish Riója, chilled Sangria, or chilled dry sherry (Jeréz Fino).
Saludos!